Looking to add an extra special something to your Thanksgiving meal?  Something unique, memorable, and, dare you hope, easy?  Look no further than your own kitchen shelf – or wherever it is you store your Honey Pacifica honey!  Our bees have scoured the web for the very best Thanksgiving recipes with honey, and hope you'll kindly consider their recommendations.
Turkey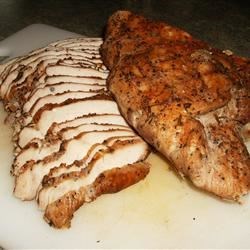 Honey Smoked Turkey found on All Recipes
Guests will gobble gobble this tasty bird, leaving nothing behind but a great, big "Thank you!".
Follow allrecipes on twitter @Allrecipes or read more at www.allrecipes.com.
Appetizers
Honey Roasted Butternut Pumpkin Soup by Delicieux
Rich and indulgent, this soup is a perfect introduction to your Thanksgiving feast.
Follow Delicieux on twitter @ledelicieux or read more at www.SouthBrooklynPost.com.
Manchego and Honeycomb by Just Ask Jill
Salty, savory cheese with sweet and crispy honeycomb – need we say more?
Find more recipes by Just Ask Jill at www.just-ask-jill.com
Side Dishes
Mashed Honey-Roasted Sweet Potatoes by My Recipes
This classic dish with a honey twist requires only five ingredients and can be made the day before, leaving you extra time to relax with family and friends.
Follow My Recipes on twitter @My_Recipes or read more at www.myrecipes.com
Honey Yeast Dinner Rolls by Beantown Baker (Jen)
Dinner rolls are already begging to be topped with a healthy dose of honey, and baking the honey in can only serve to make them more magical.
Follow Jen on twitter @beantownbaker or read more at www.beantownbaker.com.
Honey Cornbread Stuffing by The National Honey Board
There can never be a Thanksgiving with too much stuffing. Keep it coming and remember to double or triple this recipe.
Follow The National Honey Board on twitter @NationalHoney or read more at www.honey.com.
Candied Yams by The National Honey Board
Yams are admittedly controversial, leaving family members to line up on either side of the table to defend their taste buds. Give your family a little less to argue about this year by serving up these sure to please Candied Yams with honey.
Follow The National Honey Board on twitter @NationalHoney or read more at www.honey.com.

Dessert
Salty Honey Pie by South Brooklyn Post
An excellent addition to traditional pies, this one will surprise and delight your guests.
Follow South Brooklyn Post on twitter @sbrooklynpost or read more at www.SouthBrooklynPost.com.
Going to try any of these recipes or have a honey Thanksgiving recipe you'd like to share? Leave a comments below and let us know. Also leave yourself plenty of time for shipping, buy raw honey today.